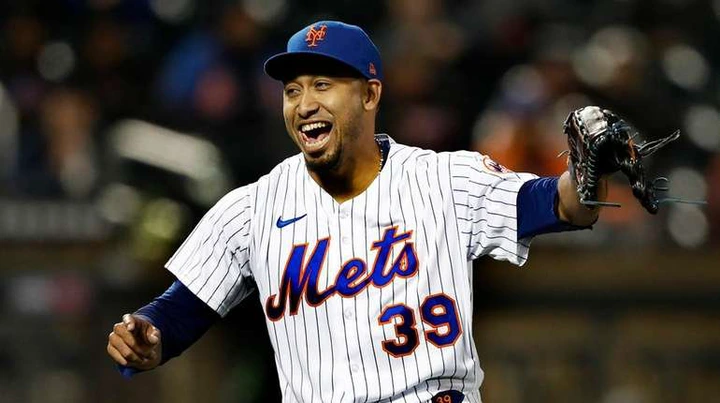 These next several months are shaping up as another monumental offseason for the Mets, but at least it'll be mostly about players.
This October is the first since 2016 that the Mets are not spending the immediate aftermath of the season on a hiring search for a major baseball position — general manager or manager or both — which suggests a newfound and much-needed degree of stability for the organization. Yes, they are looking for a replacement for retiring team president Sandy Alderson, but that will go on indefinitely and is less about baseball specifically than the business overall.
So for general manager Billy Eppler, manager Buck Showalter and other club decision-makers, it is time to go back to work — and they have plenty of it to do.
As many as 14 Mets, many of them key players, will or can be free agents after the World Series. The team that won 101 games but lost in the first round of the playoffs over the weekend is poised to change dramatically by spring training.
"I'm sure it'll look a lot different," said Francisco Lindor, who is under contract through 2031. "Players make decisions based on what's better for them and their families. You gotta respect that. I'm sure it'll be different next year.
"But we're creating a culture here that's going to be one of the best ones in the game coming up. I'm truly excited for what's going to come. This is a step forward, this is a step in the right direction. I appreciate ownership, front office and the coaching staff, because they're moving us in the right direction."
Here are the Mets' pending free agents, listed by position group, with those with contract options for 2023 noted parenthetically.
* Starters: Jacob deGrom (opt out that he has said he will exercise), Chris Bassitt (mutual option), Taijuan Walker (player option), Carlos Carrasco (team option).
* Relievers: Edwin Diaz, Adam Ottavino, Seth Lugo, Trevor May, Joely Rodriguez, Mychal Givens, Trevor Williams, Tommy Hunter.
* Outfielders: Brandon Nimmo, Tyler Naquin.
Put another way, the Mets potentially will see almost their entire rotation, almost their entire bullpen and their centerfielder/leadoff hitter reach the open market. They have until five days after the World Series before other teams are allowed to talk to those free agents. Until then, they have an exclusive negotiating window with their own players.
"I hope [the Mets] come to me quick to talk," Diaz said. "I will take the best offer for me and my family."
The size of that group and suddenness of the end of the season created a heavy sense of finality in the postgame clubhouse. For Nimmo, the Mets' first-round draft pick in 2011, and Lugo, the 34th-rounder that year, the threat of change came with a certain sadness.
"The future is a mystery. I've been in this organization for 12 years. It's a long time," said Lugo, speaking slowly so as to not choke on his words. "This is all I've ever known. I don't know. I'm not very good with that kind of stuff."
Nimmo said: "You don't know, especially in baseball, where the future might take you."
The Mets are free, of course, to retain their own free agents. Nimmo in particular said he's "definitely interested, there's no question" in coming back, and his history with them "definitely" will be a factor in his decision.
Asked if he wants to come back, Lugo said simply, "Yeah."
DeGrom, similarly asked if in his heart he believes he'll stay with the Mets, said in part, "I have no clue." He otherwise declined to discuss contract matters Sunday but after his start Saturday admitted to wondering if it was his last game with the team.
"Free agency will be an interesting road I've never gone down before," Nimmo said. "We'll see what's in store. It's going to be a new adventure for me as well, so I don't really know what to expect."
Stay tuned for an eventful next stretch, as it always seems to be for the Mets.
"I've been a part of organizations where you're able to have a down year and then reset the next year and be really good," said Max Scherzer, the lone guaranteed rotation holdover. "It's too early to comment now on what's going to happen next year because you have the whole offseason to go, but I've been in situations before and seen organizations rebound. And there's no reason why this organization can't rebound."